| | |
| --- | --- |
| | This article, Batman: The Red Knight, was written by Talix. Please do not make any changes to this fiction without receiving the author's consent. |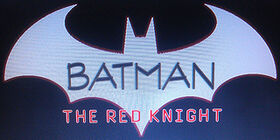 Batman: The Red Knight is a multimedia project based on the DC superhero Batman; inspired from Batman: Animated Series and several Batman storylines like Year One and The Long Halloween. It is developed by TalixArts along with DC Comics and Del Ray Books. It will consists of a video game, a tie-in novel, a comic book series, and a planned animated movie.
Promo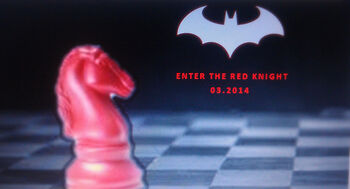 Story
Batman: The Red Knight will be a original story. Time for the story reveal.
Premise
Batman is trying to stop the latest plot by the Joker. However, Batman has no idea his actions will to the death of one of his closet confidants. As Gotham City mourns, Bruce decides to end his run as Batman forever. However, the mysterious arrival of a figure known as the Red Knight has prompts Batman to return when he proclaims a dastardly new plan set by a vile organization known as Endgame. Batman tries to see Amanda Waller's help, but when Red Knight tells Batman that Endgame is going to change Gotham City forever by using a controversial energy star that will unite all of Batman's rogues to do what it is necessary to grab the power. Batman is forced to team up with Red Knight to stop Endgame and Gotham's criminals from activating the Black Heart star. However, Batman suspects there is more to the Red Knight...and Batman decides to investigate Red Knight's past only to discover a shocking revelation. A revelation that will rock Gotham to its core and most likely its end.
Characters
Official
Projects
Video game
Main article: Batman: The Red Knight (Video game)
The primary project will be the video game. The game version of Batman: The Red Knight will be released for the PS4, Xbox One, Wii U, PSVita, and 3DS developed by TalixArts. It will be released March 24, 2014. The story, characters, and more will be released at a later date.
Novel
The novelization of Batman: The Red Knight by Del Ray Books will be out March 17, the week before the game's release. It will expand more of the Red Knight's mystery and include a deep inside look of GCPD's manhunt.
Comic book prequel
Main article: Batman: Facade of the Red Knight
Batman: Facade of the Red Knight is the prequel to the video game. It will be out in April 2014. Further details remain unseen.
Planned movie
Main article: Batman: The Red Knight (Movie)
The film version of Batman: The Red Knight has a targeted date of November 2014. No further details have been given except elements of the comic book prequel will be included into the film's story.
Community content is available under
CC-BY-SA
unless otherwise noted.