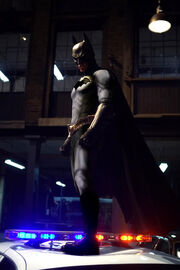 DC Heroes: Fight to the Finish is a 3-D fighting game based off of DC characters. Each character has several special attacks with a regenerating energy bar, 3 super attacks, and 1 finishing blow. Each character also has a type, dictating their fighting style and agility. When a fight or mode is won, you win coins. Coins can be used to buy characters after you have unlocked them.
Types
Acrobat
Brute
Assassin
Thug
Heroes
Robin (Grayson)
Robin (Todd)
Robin (Damian)
Superman
Green Lantern
Wonder Woman
Supergirl
Villains
Lex Luthor
Harley Quinn
Ra's Al Ghul
Sinestro
Red Hood (Todd)
Mr. Freeze
Darksied
Lobo
Brainiac
Unlockable/Secret Characters
Community content is available under
CC-BY-SA
unless otherwise noted.