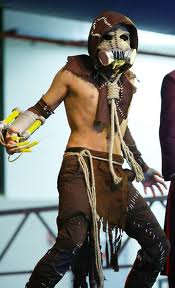 The Gotham Knight Trilogy
is ElectricMayhem's Batman reboot franchise.
Movies
Spin-Offs
Characters
Eric Bana - Bruce Wayne/Batman
Logan Lerman - Tim Drake/Robin
William H. Macy - Commissioner James Gordon
Alex Pettyfer - Dick Grayson/Robin/Nightwing
Larry Lamb - Alfred J. Pennyworth
Wesley Snipes - Lucius Fox
Blake Lively - Vicki Vale
Seth Rogen - Harvey Bullock
Ellen Page - Barbara Gordon
Milo Ventimiglia - Jason Todd/Robin/Red Hood
Michael Emerson - The Ventriloquist
Ray Liotta - Scarface (voice)
Michael Fassbender- The Joker
Matt Willig - Bane
Olivia Wilde - Selina Kyle/Catwoman
Jeff Bridges - Rupert Thorne
Daniel Craig - Salvatore Maroni
Norman Reedus - Joe Chill
Hugh Laurie - Roman Sionis/Black Mask
Ben Foster - Victor Zsasz
Matt Damon - Harvey Dent/Two-Face
Adrien Brody - Jonathan Crane/Scarecrow
Kevin Spacy - Victor Fries/Mr. Freeze
Mark Strong - Jervis Tetch/Mad Hatter
Jackie Earle Haley - Waylon "Croc" Jones
Community content is available under
CC-BY-SA
unless otherwise noted.