Warren White, also known as Great White Shark, is a villain that holds incredible financial skills. He is also an excellent manipulator, and turns the heroes into villains.
Batman: Altor's Demise
In Batman: Altor's Demise he appears in the Ravager Pack as the main enemy. The player must battle against the manipulated RHYNO forces and track him down.
Read more...
Batman VS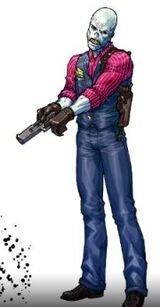 In
Batman VS
,
Great White Shark
fights on the side of evil.
Finishing Moves (Killing)
Manipulation: Great White Shark crosses his arms and nods, and from off-screen the oppenent is shot.
No Hassle: Great White Shark draws a revolver and turns from the opponent, then shoots him.
Appearances
Comics
Films
Video Games
Community content is available under
CC-BY-SA
unless otherwise noted.