Knights is a television show based on the Batman franchise which ran from 2014 to 2015, along with a 2016 miniseries.
| | |
| --- | --- |
| | This article, Knights (TV Series), was written by Hermione6720. Please do not make any changes to this fiction without receiving the author's consent. |
Knights (TV Series)

Show Description

Genre

Created By

Starring(s)

Opening Theme

"The Shadows Betray You" by Hans Zimmer

No. of Seasons

3

No. of Episodes

50

Production

Running Time

22 Minutes

Production Company(s)

Broadcast

Original Channel

Original Run

2014-2015

[Source]
Development
In early 2013, Warner Brothers began to develop a dark new Batman TV series for ABC Family. Production began in September 2013 and the pilot ran 2014. Following the critical success of the first season, ABC Family ordered a second season of 20 episodes. According to Scott Snyder, "The first season was about coming together as a team. The second season will be about taking back Gotham City." Halfway through the second season the final season was confirmed. According to Rick Remender, it will have about 12 episodes. In early 2016, Rick Remedner announced that Knights woudl return for a five-epsiode fourth season. Promos seemed to suggest the return of the Joker. Following the end of Wonderland, Snyder announced that more seasons would likely be produced, albeit with a very different setting and concept. Remender said "Its important to keep things fresh. The story with the totaled Gotham is finished and done with, but what comes next to test the legacy of the Bat will be equally thought-provoking." On the possible return of Harley Quinn, Snyder commented "Dead means dead. Harley is not coming back to life, but that doesn't mean she can't turn up for dream sequences or something."
Casting
David Faustino, who plays Mako in Legend of Korra was selected to play Nightwing, and Grey DeLisle of GL:TAS to play Selina Kyle. However, later in the casting process Faustino's role was switched to Flamebird. Soon after, Vanessa Marshall was announced as Harley Quinn, leaving only Nightwing and Oracle to be cast as Neil Patrick Harris and Alyson Stoner.
Influences
According to the producers, Knights was influenced by Batman: The Animated Series, Young Justice, and the Dark Knight trilogy. There are also elements present from the New 52, such as Nightwing and Harley Quinn's costume designs. Knights follows a a complicated storyboard similar to Young Justice, and also holds a similar form of character design. Batman: The Animated Series provided a model for the dark, gritty form of storytelling, as did the Dark Knight trilogy.  Knights also received noticable inspiration from "Batman: No Man's Land", a megaseries which revolved around a devasted Gotham cut off by the government.
Characters
Knights centers around a team protecting Gotham in a post-apocalyptic state. For more characters, see here.
The Knights (Seasons 1-3)

Harley Quinn (Grey DeLisle) is the central character and leader of the Knights. One year ago, Batman neutralized her with an anti-Joker venom, which placed her in a coma. She awakens to find Batman dead and the city in ruins.
Nightwing (Neil Patrick Harris) is recruited by Harley Quinn early in the series. He has been vainly attempting to restore Gotham City since Batman's death, and must learn to trust Harley.
Batgirl (Vanessa Marshall) in the shock identity of Selina Kyle, who is trying to make up for her part in Batman's death.
Oracle (Alyson Stoner) or Barbara Gordon, lost her legs in the event that set Gotham on fire, and must now help the Knights through her knowledge of computers.
Flamebird (David Faustino) aka Tim Drake is definitely the smartest one on the team...what is he planning for Harley Quinn?

The Knights (Season 4)- The following team was present in the five-episode followup Knights: Wonderland. The whereabouts of Nightwing, Huntress, and Oracle were left unknown until the series finale.

Batman (David Faustino) aka Tim Drake has risen beyond the mantle of Flamebird to his new identity as Gotham's new Batman and leader of the Knights. But with the return of the Joker to Gotham, he finds himself doubting his role.
Batgirl (Vanessa Marshall) aka Selina Kyle has risen to everything Bruce Wayne had hoped she'd be- a member of the Justice League. A hero. A Knight. But when an enemy dtermined to ruin her comes to the forefront, how much will she sacrifice to keep her new life?
Canary (Susan Eisenberg) aka Dinah Lance went missing for a year. What is she not telling Batman?
Black Bat (Stuart Allan) aka Damian Wayne has left the League of Assasins for the world of his genetic template: Bruce Wayne. But how will he cope with this strange new world?
Robin (TBA) aka Colin Wilkes is new to the life of a hero. But can we work past his life of abuse and pain?
Question (TBA) aka Victor Sage is an investigate reporter with a questionable mental health who acts as the Knights' eyes and ears in the City.
Spoiler (TBA) aka Stephanie Brown is the third teenage member of the Knights, impulsive and cocky.

The Knights (Season 5-6)- For the fifth and sixth season, emphasis was focused more on the original Knights than the young recruits, though they still played an important part. This incarnation of the Knights was notable for fighting alongside the remains of the shattered Justice League, leading into the unofficial Season Seven, "Justice".

Agent Grayson (Neil Patrick Harris) of Spyral makes his return to the Knights as the stars begin to vanish. But has the life of a secret Agent brought Dick too close to the life of a Talon?
Harlequin (TBA) aka Duela Dent makes a deal- fight for the Knights and not return to Arkham. But can Harley's daughter contain her violent impulses?
Question (TBA) Vic Sage has put up with the morally questionable Knights for a bit, but how much longer before he snaps?
Oracle (David Faustino) After an exhausting year as Batman, Tim Drake was more than ready to go under the radar. But how long before he returns to the mantle he feels he's shamed?
Spoiler (TBA) must learn to mature as her father makes his dramatic return.
Nightwing (TBA) aka Kate Kane is a hardened soldier- can she be a Knight?
Black Bat (TBA) aka Colin Wilkes is heartbroken over his best friend's choice to join the dark side. Can he keep it together?
Design
Characters
Scott Snyder and Rick Remender, who developed this series decided to go for a style similar to the popular series Young Justice.
Settings
Gotham is portrayed similar to No Man's Land. Many areas are destroyed and in bad condition, and crime once again rules the city.
Episodes
Season One
Episode Number
Episode Name
Date Premiered
Guest Stars
Notes
001
"Awakening (Part One)"
January 12, 2014
Bruce Greenwood as the Batman; Brent Spinner as the Joker.
It was a perpetual cycle, with only occasional variations- Batman vs. the Joker, Batman vs. the Riddler, with Batman nearly always standing victorious.  But then, it all changed. Harley Quinn wakes up from an Anti-Joker toxin one year later- only to find the Batman deceased and Gotham in ruins.
002
"Awakening (Part Two)"
January 19, 2014
Harley Quinn is alive and well, and horrified at Gotham's current state. Her efforts to discover what occured in the past year are hindered when Nightwing arrives to incarcerate her.
003
"Decryption"
January 26, 2014
Harley Quinn and Nightwing attempt to infiltrate Two-Face's domain in order to learn more about the burning.
004
"Claws"
February 2, 2014
Nightwing becomes obsessed with bringing the new Batgirl to justice.
005
"Suicide"
February 9, 2014
The Knights square off against the Suicide Squad, a government task force sent to destroy Gotham.
006
"A Cup of Tea"
February 16, 2014
As Batgirl and Nightwing trail Deadshot, Harley snoops around the Batcave.
007
"Homecoming"
February 23, 2014
When Tim Drake returns to Gotham City, he reluctantly joins Harley on her search for Barbara Gordon.
008
"Teamwork"
March 2, 2014
As the Knights begin to target prominent gang bosses, they are faced by a mysterious plague turning their targets into Man-Bats.
009
"Crosshairs"
March 9, 2014
The price on Harley's head has grown, and when Deathstroke, Lady Shiva, Killer Croc, and Clayface come after her, she must rely on the help of her ex-BFF, Poison Ivy.
010
"Instincts (Part One)"
March 16, 2014
Just as the Knights mission seems to be going their way, mysterious assasins begin picking them off one by one.
011
"Instincts (Part Two)"
March 23, 2014
Everything changes here as the Knights come face-to-face with the Court of Owls, a mysterious group who is secretly controlling Gotham.
012
"Mazes"
March 30, 2014
Selina Kyle escaped the Court of Owls- but her friends are still in the Labryinth. Maybe the newcomer Huntress can help her out as Dick, Tim, and Harley desperately search for a way out.
013
"Night of the Owls"
April 6, 2013
A 45 min. special
As Talons descend upon Gotham, The Knights, Huntress, Poison Ivy, Deathstroke, and Lady Shiva must defend the city.
014
"Pursuit"
April 13, 2014
The Knights attempt to raze all remaining Owl establishments to the ground, while Oracle and Alfred get an unexpected visitor.
015
"Cry Revenge"
April 20, 2014
Despite Oracle's warning, Black Canary follows Mr. Freeze's trail into the heart of mob territory. Meanwhile, Dick, Tim, Selina, and Harley's search is interrupted by the Mortician- who wants revenge on Harley.
016
"Heritage"
April 27, 2014
Nightwing's personal trip is cut short when he is suddenly captured by a Talon.
017
"Deadline"
March 4, 2014
According to information gathered by Black Canary; Batgirl, Flamebird, and Harley have less then 48 hours to prevent Mr. Freeze's nuclear weapons from detonating.
018
"Choices"
March 11, 2014
The final battle has arrived as the Knights face Mr. Freeze and his mercenaries! Wayne Manor is discovered by Two-Face! And Nightwing makes a fateful choice...
Season Two
Episode Number
Episode Name
Date Premiered
Guest Stars
Notes
019
"Ignition"
September 7, 2014
Still reeling from last season's events, the Knights must try to pick up the pieces of Gotham. During their search for a lost comrade, the Knights come into conflict with the Penguin, who has smuggled the android Amazo into Gotham.
020
"Flipside"
September 14, 2014
The Knights decide to take down Two-Face's empire- but Batgirl and Harley are worried about what Tim will do when he faces the killer.
021
"Sparks"
September 21, 2014
Selina Kyle is approached by an ally of the past, who makes her question her role as Batgirl. Meanwhile, Oracle and Flamebird find traces of Dick.
022
"Seeds of War"
September 28, 2014
The Knights must intervene when a gang war between Poison Ivy and Penguin seems imminent.
023
"Damaged"
October 5, 2014
When the Black Mask returns, chaos reigns throughout Gotham.
024
"Trail of the Talon (Part One)"
October 12, 2014
The Knights find their first clue as to Talon's whereabouts, and eagerly resume their search.
025
"Trail of the Talon (Part Two)"
October 19, 2014
The Knights have been trapped by the Court of Owls, and the only thing standing between the Talon and Oracle is Huntress!
026
"The Return"
October 26, 2014
Nightwing is back...but will he ever be the same? As Flamebird and Nightwing take the night off, they find themselves the prey of Deathstroke...while Batgirl and Harley deal with the resurfaced East End Enforcers.
027
"Anarchy"
November 2, 2014
When a teenage prodigy learns his parents have been murdered, he returns to Gotham to enact revenge.
028
"Asylum"
November 9, 2014
Nobody's been in Arkham Asylum for over a year...or at least that's what the world thinks. When the Knights return to the supposedly deserted hospital, then find themselves trapped inside by an unknown enemy.
029
"War (Part One)"
November 16, 2014
When the remaining Crime Bosses band together to rid the city of the Knights, it becomes clear that a showdown with the forces controlling Gotham is imminent.
030
"War (Part Two)"
November 23, 2014
The Knights call in backup for the final battle against Gotham's biggest gangs.
031
"Reconstruction"
November 30, 2014
The U.S. Government begins to explore the option of rebuilding Gotham, and sends Dr. Hugo Strange to check it out.
032
"Bullion"
December 7, 2014
The reconstruction of Gotham begins, but as Nightwing and Batgirl research Strange's objectional background, the rebuilding is hit hard by the Scarecrow.
033
"Tempest"
December 14, 2014
A mysterious storm is triggered by a powerful gang lord known as the Outsider.
034
"Angels"
December 21, 2014
When allies previously thought dead return to Gotham, Flamebird suspects foul play. Meanwhile, Hugo Strange begins to uncover disturbing clues.
035
"Hush"
December 27, 2014
The battle against the Knights' mysterious adversary takes a surprising turn when Solomon Grundy enters the fray.
036
"House of Cards"
January 3, 2015
The Knights receive a nasty shock when the Clown Prince of Crime returns.
037
"Toxin"
January 10, 2015
The Joker loses all semblance of sanity upon the revelation of Batman's death, and suddenly everything the Knights have worked so hard to build is in jeopardy.
038
"Darkness"
January 17, 2015
The Joker vs. Harley Quinn! The Knights versus everybody! But what is the Joker's hidden agenda?
Season Three
Episode Number
Episode Name
Date Premiered
Guest Stars
Notes
039
"Shadows"
April 5, 2015
Gotham is healing, but there's still one mystery left to solve- who killed the Batman? The Knights journey to the League of Shadows to find out, but do not find what they expected.
040
"The Edge"
April 12, 2015
Talia's "son" Damian assists the Knights on their search for the Outsider, but Nightwing sees something familiar about him. However, the Outsider has a few tricks left up his sleeve...such as the scrapped Brainchild of Batman, O.M.A.C.
041
"Cavernous"
April 19, 2015
The Knights leave the League after the revelation of Damian and the Outsider's true identities, but are once again thrown into chaos when a strange creature leaves a trail of destruction around Gotham. And a horrible truth is revealed to Harley Quinn...
042
"Lights"
April 26, 2015
Harley Quinn takes a night off to reflect upon her secret, but her night off goes awry when a pyromaniac named "Firefly" attacks. Meanwhile, Batgirl and Nightwing help the Black Canary track down Nora Fries.
043
"Wings"
May 3, 2015
When citzens start dissapearing across Gotham, Flamebird decides to fly solo to find the kidnapper. Meanwhile, the other Knights narrow down on the Outsider's trail.
044
"Faces"
May 10, 2015
Oracle has vanished...Nightwing angrily confronts Two-Face in Arkham Asylum, but does Two-Face hold the answer? And the other Knights confront an escaped Black Mask.
045
"Crossroads"
May 17, 2015
The Huntress is after Lady Shiva, who has committed her latest murder...meanwhile, Haly's Circus return to Gotham...to kill Nightwing?
046
"Birds of Prey"
May 24, 2015
Black Canary, Huntress, and Katana join the hunt for Oracle, as Flamebird and Harley begin to investigate some strange circumstances surrounding Hugo Strange.
047
"Countdown"
May 31, 2015
The Calender Man is back in action, but nobody can predict his motives.
048
"Endgame (Part One): Prices"
June 7, 2015
The Outsider has returned, and is ransoming Oracle for the Knights.
049
"Endgame (Part Two): Fates"
June 14, 2015
The fate of Bruce Wayne revealed!
050
"Endgame (Part Three): Sacrifices"
June 21, 2015
The Knights and their allies desperately fight the final battle! The mastermind behind Bruce Wayne's death stands revealed! The fate of Gotham and the world is determined as one member makes the ultimate sacrifice!
Season Four: Wonderland
TBA
Season Five: Heavenly Destruction
TBA
Season Six: Starfall
TBA
Critical Reception
Knights received a largely positive response, critics calling it the "'The Dark Knight' of television".
Season One
The series recieved criticsm for trying to jam an extensive plot into eighteen episodes, however positive reception majorly outweighed negative. Critics praised the interesting dynamic of the team, filled with both former villains and heroes. The New York Times said, "I would have liked to see more of Batman's classic rogues, but the series otherwise produces a satisying blend of the Dark Knight Trilogy and Young Justice." "Harley Quinn is now one of my top ten superheroines." said another critic. The season finale received extremely high praise from both critics and viewers.
Season Two
The second season fared even better then the first, critics wowed by the dramatic confrontations with Hush, the Joker, and Two-Face. The Chicago Sun Times called it "a modern classic", a sentiment echoed by other notable newspapers. Another paper called it "a dark, gritty drama that echoes of mystery and intrigue."
Season Three
While still very popular, the final season was considered by most inferior to the first two, with the exception of the finale, Endgame. As Scott Snyder said, "It certaintly wasn't our best work but it was definitely a fitting finale for this epic." Similar sentiments were shared by critics, who stated "Not the first two seasons, but still a magnificient conclusion."
Collected Editions
Each volume consits of two discs containing 4-5 episodes. The first volume was released on DVD and Bluray in April 2014, The second volume followed suit in June. Volumes 4 and 5 were released in conjunction in February 2015, and the final two volumes were released in July 2015.
Knights Vol. 1: Awaken

Episodes #1-9
Commentary by Rick Remender
Exclusive look at the creation of Knights.

Knights Vol. 2: Rise of the Owls

Episodes #10-18
Commentary by Scott Snyder
Exclusive look at creating the Knights' world.

Knights Vol. 3: The Hunt for Dick Grayson

Episodes #19-28
Commentary by Rick Remender
Exclusive look at Knights: The Crusade

Knights Vol. 4: Reconstruction

Episodes #29-38
Commentary by Scott Snyder
Exclusive look at Season Three.

Knights Vol. 5: The Fate of Bruce Wayne

Episodes #39-44
Commentary by Scott Snyder and Rick Remender
Exclusive short revolving around the Martian Manhunter.

Knights Vol. 6: Endgame

Episodes #45-50
Commentary by the cast and crew
Exclusive documentary about the show
A volume collecting the entire show was released in early 2016.
Other Media
Video Game
Knights: The Crusade
Knights: The Crusade was released on PS4, Wii U, Nintendo 3DS, and Xbox 720, and produced by Warner Brothers with the unity engine. It was available in stores March 4, 2015.
Development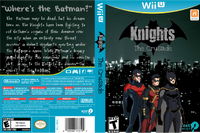 Warner Brothers confirmed that a video game featuring the Knights was in the works during ComicCon 2014. According to Rick Remender the game will take place before Season Three. It is scheduled for release early 2015. A few weeks after its announcement, the game's title was confirmed as Knights: The Crusade.
Gameplay
Players have the option to play as any of the Knights (Harley, Nightwing, Flamebird, Batgirl), and obtain different costumes throughout the game. Each character has a unique style that shows in their fighting and movement. The game is open-world, with the Batcave as a safe haven where players can purchase upgraded equipment, train, and receive missions.
Plot
A mysterious new Batman has appeared throughout Gotham, and is throwing the city into a frenzy. Bat-Man is picking off, killing, and manipulating the criminal population of Gotham, casting doubt on the Knights as Batman's successor. However, the Knights manage to capture one of his henchmen at a press conference the Bat-Man attacked, and infiltrate his base of operations, where they sneak in succesfully before coming face to face with the Bat-man himself. The Bat-Man easily defeats the players, who are forced to retreat. However, upon a suspicion of Nightwing's the Knighst travel to the Gotham Cemetary, where they are met by several thugs. The Knights discover Jason Todd's empty tomb, and realize the Bat-man must be him. However, this victory is short-lived as Deathstroke arrives, seeking vengeance. Deathstroke is about to win when the Bat-man arrives, and threatens to kill Deathstroke. This leads to a heated arguement in which Bat-Man attacks Nightwing. The two fight, but Nightwing gets the Bat-man's mask off to reveal Jason Todd, as previously thought. Todd attempts to escape, but the player pursues him, losing him but finding a hard drive indicating Todd was being manipulated by somebody else. Suddenly, a massive balloon with the Bat-Insignia appears, and the real enemy appears- Ra's Al Ghul and his League of Shadows. The Knights then fight assasins placed in strategical locations around the city before confronting Al Ghul himself.
Notes
The Ra's al Ghul appearing in this game is later revealed to be a clone of the original.
Comics
Until December 2014, there was  no word on whether the possibility of a comic tie-in was to be explored. However, DC announced a 7-issue miniseries based off the series of the same name, Knights.
Issue #
Story Title
Month Released
1 of 7
"Explosive"
January 2015
A government agent, John Jones falls under the Knights' suspicion when he starts to exhibit strange powers.
2 of 7
"Manhunt"
February 2015
The Knights' must complete the mission of an injured friend...easier said then done when Deadshot and the Secret Six intervene.
3 of 7
"Dangerous"
March 2015
The Knights hunt for Bane brings them to the dangerous tropical island of his birth.
4 of 7
"Unsheathed"
April 2015
The Knights are trapped in a brutal island arena for a showdown with Bane! Batgirl escapes, but finds herself the prey of the Cheetah! And Katana enters the fray...
5 of 7
"Venomous"
May 2015
Batgirl and Katana versus Bane!
6 of 7
"Masks"
June 2015
The Knights return to Gotham...only to find themselves pitted against a returned Black Mask, obsessed with their deaths.
7 of 7
"Finale"
July 2015
FINAL ISSUE! When the Knights are helpless, who answers the call?
Reception
The comic received generally good reviews from critics, who said "Though not as dark and gritty as the Knights we are used too, the comic still contains an intriguing and dramatic ploline which nicely compliments the series."
Action Figures
During an interview, Scott Snyder stated "Its not impossible....if we were offered that oppurtunity, I'm sure we'd take it." This oppurtunity arrived April 2015, a month before the series concluded, According to Rick Remender, Mattel and ABC negotiated for four series of Knights figures.
| Series # | Character | Accesories | Notes |
| --- | --- | --- | --- |
| 01 | Nightwing/Dick Grayson | Escrima sticks; batarang; | |
| 01 | Black Mask/Jeremiah Arkham | Knife; three explosives; | |
| 01 | Black Canary/Dinah Drake | None | |
| 01 | Deathstroke/Slade Wilson | Two swords; a pistol; machine gun; | |
| 02 | Harley Quinn | Hammer/Mallet | |
| 02 | Two-Face/Harvey Dent | Gun; coin; | |
| 02 | Flamebird/Tim Drake | None | |
| 02 | Hugo Strange | Gun | |
| 03 | Batgirl/Selina Kyle | Whip, three batarangs | |
| 03 | Lady Shiva | None | |
| 03 | Huntress/Helena Bertillini | Crossbow | |
| 03 | the Penguin | Umbrella; | |
| 04 | Black Bat/Damian Al Ghul | Katana | |
| 04 | Talon | Knifes | Comes with a Dick Grayson variant. |
| 04 | Firefly | Flamethrower | |
| 04 | Alfred Pennyworth | Tray; Tea; | |
| Exclusive | Oracle | Wheelchair; Computer Terminal | Available at San Diego Comic-Con |
Legacy
Even after the series ended in June 2015, the series was still met with positive response. Cartoon Network begain airing reruns in late 2015, where it was met by a new audience of equally enthusiastic viewers. Knights premiered in the UK a year later, followed by French and Spanish translations. The action figure line was particularly popular among collectors, a mint-in-box figure coming to about $79.99 on eBay. Bluray sales doubled by 2017.
Future
When asked about a possible return to the world of Knights, Scott Snyder stated "The studio is currently developing several other Dc properties for the television, which may or may not take place in the Knights' world. There are no immediate plans for a sequel series, but who knows with a fanbase like this?" Fortunately, a sequels eries titled Knights: Wonderland premiered in 2016. Remender stated that Wonderland "rejuvenated" his interest in Knights and that a sequel series was now possible.
Notes
Community content is available under
CC-BY-SA
unless otherwise noted.