Kate Spencer, also known as Manhunter, is a superheroine that has appeared in various media. In fanon media created by 900bv, she appears in the comic Objections! and the video game Batman: Altor's Demise.
Batman: Altor's Demise
In Batman: Altor's Demise she appears as a member of The Force of Altor and assists the player in the side mission Blademasteress alongside Squire.
Batman VS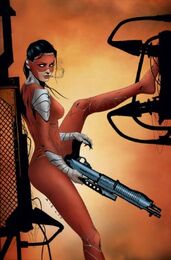 In
Batman VS
,
Manhunter
fights on the side of good.
Finishing Moves (Killing)
Fish in a Barrel: Manhunter roundhouse kicks her opponent to the ground, then shoots them it the head.
Pistol Whipper: Manhunter hits her opponent with a pistol several times, and then puts the gun in their mouth and fires it.
Appearances
Comics
Films
Video Games
Community content is available under
CC-BY-SA
unless otherwise noted.