She is depicted as one of the world's most prominent eco-terrorists. She is obsessed with plants, botany, and environmentalism. She uses toxins from plants for her criminal activities, which are usually aimed at protecting the natural environment.
History
Dr. Pamela Lillian Isley, a promising botanist from Seattle, was seduced by her high school professor Marc LeGrande into assisting him with the theft of an Egyptian artifact containing ancient herbs. Fearing she would implicate him in the theft, he attempts to poison her with the herbs, which are deadly and untraceable. She survives this murder attempt and discovers she has acquired an immunity to all natural toxins and diseases. A few years later, she is an activist in eviromentalism and is protesting in gotham when the riot squad showed up and oppened fire on the protesters. Scarecrow then showed up and opened fear toxins on the riot squad. Pamela then joined the scarecrow and took on the supervillain name Poison Ivy.
Personality
She is obsessed with the enviroment and protecting it. She usually only wears chlothes made out of vines or leaves, or nothing at all. She seems to have a romantic intrest in Scarecrow, but the attraction is one-sided.
Gallery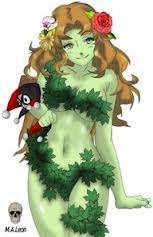 Community content is available under
CC-BY-SA
unless otherwise noted.