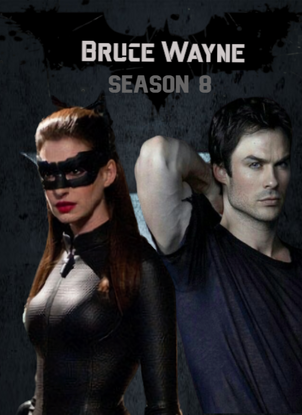 Season 8 is the eight season of the show Bruce Wayne and a direct sequel to Season 7, which ended with Bruce Wayne becoming the Batman. Season 8 will focus on Bruce Wayne's new life as the Batman and he will face villains from the previous seasons like The Joker, Two-Face, Black Mask, The Penguin and new villains like Clayface, Harley Quinn, Bane, Firefly and Killer Croc.
Cast
Main
Ian Somerhalder - Bruce Wayne / Batman
Bryan Cranston - Commissioner James Gordon
John Cleese - Alfred Pennyworth
Jenna Dewan - Selina Kyle / Catwoman
Sophia Bush - Vicki Vale
Courtney B. Vance - Lucius Fox
Recurring/Guest
Seth Gabel - Jerome Valeska / The Joker
Milo Ventimiglia - Harvey Dent / Two-Face
Michael C. Hall - Tommy Eliot / Hush
Genevieve Cortese - Helena Bertinelli
Melissa George - Diana Lance / Black Canary
Geoff Pierson - Rupert Thorne
Peter Facinelli - Black Mask
Jason Issacs - Oswald Cobblepot / The Penguin
TBA - Officer Ellen Yin
TBA - Harvey Bullock
TBA - Amanda Waller
Berenice Marlohe - Talia al Ghul
James Frain - Ra's al Ghul
Javier Bardem - Bane
Alison Brie - Harley Quinn
TBA - Killer Croc
TBA - Mr. Freeze
Tom Welling - Clark Kent / The Blur / Superman
Adrianne Palicki - Diana Prince / Wonder Woman
Kyle Gallner - Bart Allen / Impulse
Justin Hartley - Oliver Queen / Green Arrow
Lee Thompson - Victor Stone
Melissa George - Diana Lance / Black Canary
Plot
Season 8 of Bruce Wayne is a direct sequel to Season 7 which ended with Bruce Wayne becoming The Batman. Season 8 focuses on Bruce Wayne's new life as the Batman. The GCPD are on a conflict; Should they hunt Batman or team up with him? Batman will face villains from the previous seasons, like The Joker, Ra's al Ghul, Two-Face, The Riddler and more. New villains like Harley Quinn, Deathstroke, Bane, Killer Croc and Firefly will be introduced, James Gordon will become the first ally of Batman and will help him to solve crimes and Batman will team up with the Justice League again. Season 8 draws inspiration from Batman: Year One, Batman: Hush, Batman: and The Long Halloween.
Episodes
Episode Number
Episode Name
Written by
Description
1
The Bat
GoldenMaster7
3 Weeks after the defeat of The Joker, Bruce Wayne leads a double life: At the day, he is Bruce Wayne, billionaire playboy and CEO of Wayne Enterprises, and Batman at the night, the new Outlaw of Gotham City who tries to minimize the crime in Gotham City. Selina Kyle / Catwoman, a new outlaw as well and one of the first loves of Bruce Wayne, tries to fight crime on Gotham with her own ways and Bruce tries to help her from making mistakes and getting involved with the Underworld.
2
The Umbrella
GoldenMaster7
The Penguin closes a deal with GothCorp's CEO Ferris Boyle and gets a new and advanced Umbrella which could be used as a deadly weapon. Batman decides to hack into the GothCorp in order to sabotage the Umbrella, however he finds out that it will be harder then he thought.
3
Ice
GoldenMaster7
Bruce Wayne discovers that Victor Fries returned to operate on Gotham and broke into a Wayne Enterprises' lab and stole a new and upgraded suit. Mr. Freeze wants a revenge against Wayne Enterprises for not saving his wife and searches for a cure. Bruce admits that it will be impossible to save Nora and decides to face Fries in order to stop him from freezing multiple residents of Gotham.
4
Puzzle
GoldenMaster7
Edward Nygma steals 5 Million dollars from Wayne Enterprises and Batman decides to get into his mind games. Batman admits that the Riddler is way smarter then he thought. James Gordon tries to convince the other Officers support the Batman instead of hunting him.
5
Chess
GoldenMaster7
Black Mask notes that his business is not as successful as it was so he offers a bounty on Batman's head. Rupert Thorne, who is not as successful as he used to be as well, so he competes with Black Mask on who will kill the Batman first. When the Chaos is on Gotham's streets, Jim Gordon admits that he'll need to team up with Batman in order to stop the battle of Thorne and the Black Mask from doing any damage.
6
The Cat
GoldenMaster7
Selina Kyle steals a diamond from another museum and Batman quickly discovers that she is responsible. The owner of the Museum, is a corrupted and deadly criminal named Francisco Alviso, who will do everything in order to get the Diamond back, including murder.
7
Empty
GoldenMaster7
When Alfred is stabbed for a mysterious reason, Bruce discovers that Alfred was in contact with the British General Bloom, and Batman decides to investigate the General with Leslie Tompkins' help.
8
Emotionless
GoldenMaster7
When Alfred Pennyworth is still in a coma, Bruce becomes nasty and angry and starts to act brutally towards the criminals. When Batman accidentally causes the death of Salvatore Valestra, a member of the organization of Rupert Thorne, Arthur Reeves, a member of the Gotham Municipality, convinces the GCPD to hunt the Batman. Now, when he is officially a vigilante, Batman should escape from the GCPD and tries to use James Gordon's help.
9
Down
GoldenMaster7
When Catwoman wants Batman to join her, he quickly suspects of Selina's true intentions so he decides to investigate. Alfred awakes from his coma, The trial of the GCPD after the Batman continues. James Gordon suspects of Arthur Reeves.
10
Recovery
GoldenMaster7
Batman confronts Arthur Reeves and starts to suspect that he might have to do something with the murder of Valestra. Tommy Eliot starts to suspect that Bruce is hiding something from him.
11
Cleaned
GoldenMaster7
Batman discovers that Hugo Strange is back and quickly understands that something is happening, however when he re opens the Indian Hill and Omnix case, he discovers that someone removed the files. James Gordon confronts Reeves, who decides to run for the District Attorney role in order to replace Harvey Dent.
12
Price
GoldenMaster7
When the Huntress, Black Canary and Catwoman seeks for Bruce's help to stop a new project of the businessman man Jordan Pryce, Bruce should put his complicated relationship with Selina aside and help the Sirens to uncover the intentions of Jordan.
13
Ivy
GoldenMaster7
When the doctor Lila Ivy uncovers a GothCorp project which could cause an huge damage to the plants of Gotham City, Ferris Boyle tries to murder her by poisoning her herbs. When Lila wakes up, she discovers that she is now immune to toxins and could use it. Ivy targets Ferris and Batman understands that he'll need to protect the businessman.
14
Toxin
GoldenMaster7
Jonathan Crane re adopts the Scarecrow identity and starts to terrorize Gotham City again. Batman teams up with James Gordon and Harvey Bullock in order to stop the Scarecrow.
15
Balance
GoldenMaster7
William Brown, one of the strongest members of Black Mask's crime empire decides to hire Victor Zsaz to kill Batman once and for all. Bruce tries to balance his double life as Batman and Bruce Wayne and re considers a relationship with Vicki Vale.
16
Card
GoldenMaster7
After the Jokerz manages to get the Joker out of Arkham, The Joker becomes obsessed with Bruce and Batman like he used to be. The Jokerz are searching for Batman across of Gotham and Batman understands that he'll need to face his most dangerous opponent again.
17
Vicarious, part 1.
GoldenMaster7
Two-Face breaks out of Blackgate and hunts Batman in order to get his revenge. Bruce refuses to kill Harvey Dent but after he discovers that Two-Face kidnapped Vicki Vale, Batman understands that he'll need to battle Two-Face in order to save Vicki.
18
Vicarious, part 2.
GoldenMaster7
Two-Face continues to terrorize Gotham and this time he targets Arthur Reeves who wants to become the new District Attorney. Bruce, who should deal with Two-Face as well, considers the option on teaming up with Reeves.
19
Psychiatrist
GoldenMaster7
Hugo Strange becomes the new Psychiatrist of Arkham Asylum and Bruce quickly suspects that he could re build Indian Hill. When Batman tries to convince James Gordon that Hugo is still corrupted, James Gordon admits that they lost his files so Batman decides to expose Strange by himself.
20
Batman: Murderer?
GoldenMaster7
When Ferris Boyle nearly gets murdered by a mysterious outlaw, Batman is suspected and Arthur Reeves tries to force Gordon to re start the GCPD's attempts to arrest Batman.
21
Hush
GoldenMaster7
Batman starts his own attempts to discover the mysterious murderer. James Gordon tries to prove that Batman is not the killer. When Vicki is attacked by the killer, Batman suspects that the killer knows his identity.

**Season Finale**
Photos
Protagonists
Notes
Season 8 is the first season that focuses on Bruce Wayne's new life as Batman
Bat-Verse characters introduced: Poison Ivy and Hush
The Hush arc draws some inspiration from Batman: Mask of the Phantasm.
Hush will be explored further in Season 9 and 10.
Community content is available under
CC-BY-SA
unless otherwise noted.