Robin is the alias of Batman's crime-fighting partner, Dick Grayson.
Batman Forever
Dick was the youngest son of John and Mary Grayson. They were a team of acrobats called the Flying Graysons who worked in a circus along with his elder brother Mitchell. They went all across the globe with the rest of the circus with their astounding acts.
Batman & Robin
Batman Triumphant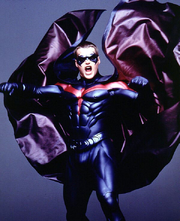 He becomes Nightwing.
Gallery